Guns and their history: The most famous real Western Gunfighters (Part I)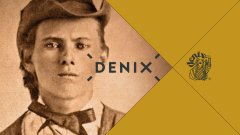 Guns and their history: The most famous real Western gunfighters (Part I)
When we think of gunfighters, our minds are filled with those emblematic cinematographic images starring Clint Eastwood, John Wayne or Lee Van Cleef. And nothing could be further from fiction, the term 'gunfighter' became popular thanks to the Western movies of the early 20th century. In reality, the men who had served as inspiration for these films really existed, although they were better known as 'man killers'
The famous shootings of the Wild West, which occurred mostly in Texas, Kansas, New Mexico, Oklahoma, California, Missouri and Colorado, were more frequent than expected and much bloodier than illustrated. Rank wars, feuds between families or the right to water and land were already sufficient reasons to provoke a shootout in the middle of the street.
These gunmen could be lawmen or cowboys. Ranchers, farmers, bounty hunters and outlaws. They might as well fight on the side of the law, like quickly switching sides and leading a 'bad guy' life. Indeed, many live up to their crimes, but many others developed their dastardly reputations not just through hearsay, but by being truly handy with their guns.
DENIX Gold Rush in the Old West story by Sándor Senkó
Here we present the most skilled, feared, dexterous, mean and popular men of the Far West; real gunslingers and bounty hunters that brought more than one problem to the county sheriffs.
Billy the Kid
Real Name: William Henry McCarthy
Year of Birth: 1859
Place of Birth: Ireland
Favorite Pistol: Colt del. 44
History: Undoubtedly one of the most famous outlaws in the Wild West. In his youth he moved to New Mexico, where he worked as a cowboy. He was first sentenced to death after killing the sheriff, but escaped hanging with a spectacular prison break. This was not the first nor the last time that he eluded death, since after his second prison escape, the legend of the 'adolescent bandit' was forged. Shortly thereafter, Pat Garrett, the same sheriff who last arrested him, killed him in a heated shootout that killed Billy the Kid at just 21 years old.
Crazy Clay
Real Name: Clay Allison
Year of Birth: 1840
Place of Birth: Texas
Favorite Pistol: 45. Colt
History: Clay Allison earned the nickname Crazy Clay at a very young age, since as a teenager there were many search and arrest warrants that he accumulated for petty crimes and petty thefts. He married young, a few days later his wife disappeared and in a drunken state, he killed two Rangers because they suggested he stop yelling. What was the way Crazy Clay escaped prison? Enlisting at 21 years old in the bloodthirsty Colonel Quantrill's Battalion. His lack of scruples and cold blood was such that even his peers called him a psychopath. Killing more than 20 "red boots" (fanatical abolitionist commandos) in the 1863 Assault on Lawrence, he fled. He worked as a cowboy under many false names, although he always had to flee, since his tracks always left behind a trail of blood. He spent some years challenging the fastest gunmen, always claiming victory thanks to his Colt .38 pistol and nimble fingers. Shortly after, he took refuge with the Apaches and married an Indian, although years later he was found dead in his abandoned ranch, without his wife and surrounded by bottles of alcohol.

Jesse James
Real name: Jesse Woodson James
Year of birth: 1847
Place of birth: Missouri
Favorite pistol: Colt .45 Peacemaker
History: Jesse James is one of the most legendary Western gunslingers, being considered a real Robin Hood. Another reason why his popularity exploded in the population of that time was by breaking the record for the highest reward offered for the capture of a gunman, $100,000 to whoever turned Jesse James over to the Rangers.
His story is short but intense: He fought in Quantrill's battalion for the Confederacy and became a major. At the end of the war, he formed his own gang of gunmen, the James-Younger, who dedicated themselves to robbing trains and banks, although, to this day, there is no evidence that said money actually ended up in the hands of the poorest of the town He achieved such fame that the United States government itself hired detectives to capture him, even planting bombs in his own house. Unfortunately, Jesse James was treacherously murdered by a member of his own clan, Robert Ford, a young man they had just recruited.
Sam Bass
Real name: Sam Bass
Year of birth: 1851
Place of birth: Indiana
Favorite pistol: .44 revolver
History: Sam Bass starred in one of the most impressive historical robberies in the United States: he docked the Union Pacific gold train in San Francisco, which, to this day, remains the largest robbery of any train on the Union Pacific Railroad. He started out with petty thefts and thefts, but without a doubt, the $60,000 heist from the Union Pacific catapulted him as an eminence among his ilk. He was pursued by the National Detective Agency and the Texas Rangers. It wasn't until the attempted robbery of the Williamson County Bank, when a member of his gang was discovered to be an informant, that they were caught in the same robbery. Sam Bass managed to escape after being shot and killed the next day. He was buried in Round Rock Cemetery, and the road to the cemetery was later renamed Sam Bass Road.
Joaquín Murrieta
Real name: Joaquín Murrieta
Year of birth: 1829
Place of birth: Mexico
Favorite pistol: Colt .36
History: Possibly, Joaquín Murrieta is the gunslinger who inspired the mythical character of 'El Zorro'. After the United States invasion of Mexico in 1846, Joaquin Murrieta began to commit crimes, became a bandit and only robbed the American conquistadors and rich bandits, thus earning himself the label of modern 'Robin Hood' causing the people themselves to protect him before the law. In reality, Joaquín Murrieta was a bloodthirsty murderer who killed and robbed anyone who had money, and since the Americans were the most favored in monetary matters, it was reason enough to be his victimizer. He spent his years killing and stealing needlessly until, in an attempt to return to Mexico, he was gunned down, leaving his body virtually unrecognizable.
Outlaws and gunslingers. Sheriffs and Rangers. Armed robberies, robberies worthy of the big screen. The Wild West left us endless stories that are beyond fiction. Many of its protagonists today are considered heroes and villains who, together with their weapons, staged famous shootouts and fights, forming part of popular southern American folklore.
At DENIX we have a wide variety of replicas of the revolvers used by our favorite villains. Visit our CATALOG and become the best armed outlaw or Ranger.