Guns and their history: TOP 5 weapons of the Far West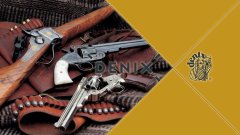 Guns and their history: TOP 5 weapons of the Far West
For decades we have seen, thanks to the cinema, an endless number of films about the Wild West where a bandit wreaks havoc in a small southern town and the sheriff is in charge of stopping him.
Spaghetti Westerns were all the rage in the 1960s and 1970s, bringing iconic scenes and characters remembered almost half a century later to the big and small screen.
The truth is that the widespread image that Hollywood projected on cowboy movies was not entirely true. Break-ins and chases were not as common, as were banked and train robberies, and the mass shootings that these actions provoked. Although that does not mean that these villains really existed, but that they tell Crazy Clay, Jesse James or Joaquín Murrieta. As we saw earlier in the BLOG, these outlaws staged real shootouts and robberies with their emblematic weapons, which are beyond fiction. Although these were not so common, nor did they leave behind so many bodies.
What Hollywood did not exaggerate in its films was the massive use of weapons of the time.
To explain it, we better enter into context: We are located in the 19th century in Montana, the place of residence of the vast majority of Americans at that time. Much of the territory to be explored was dominated by the Native Americans of the time. The overpopulation and the lack of work in the already inhabited cities, caused the need to expand the border, which is why they began to see the territory dominated by the Natives as a source of economic exploitation.
The conquest took place little by little. First, hundreds of starving and homeless pilgrims began to march to the far west. In less than a decade and with the help of European, Eastern and Mexican immigrants, military units entered the conquest, armed with rifles and rifles. His orders were simple: protect the travelers, even if it meant the expulsion (and death) of the Native Americans who were there. In many of these areas, law and authority did not exist, leaving weapons as the only method of defense for the inhabitants and travelers.
This is how the guns in the wild west and the culture that is created in North America from the 19th century to the present day.
Next, we present the weapons who conquered the Wild West.
Colt .45 Revolver

Henry Rifle

Carabina Sharps

Deringer Pistol

Winchester Fusil

Country of origin: USA.
Designer: William Mason
Manufacturer: Colt's Manufacturing Company
In service: 1873–1902
Use in Wars:
Indian wars

Spanish-American War

Philippine-American War

First World War

Mexican Revolution
Weight: 1048 gr.
Ammunition: 45 Colt
Calibre: 11.43 mm
Effective range: 50 m.
Charger: 6 cartridge drum.
Curiosities: In its design and manufacture, this revolver could only fire five bullets. It was the captain of the Texas Rangers, Samuel Walker, who, when ordering more than a thousand units of said weapon, attached two changes to make: That it could fire 6 bullets instead of 5 and that it was faster to reload. This forced Samuel Colt to modify his flagship rifle to this day.
Replicas in DENIX
The Sandor DENIX collection of legendary pistol and revolver replicas
Country of origin: USA
Designer: Benjamin Tyler Henry
Manufacturer: New Haven Arms Company
In service: 1860 – 1866
Use in Wars:
Weight: 4,2 kg.
Ammunition:44 Henry.
Calibre: 11 mm.
Rate of fire: 28 shots/minute
Curiosities: Despite not having been Officially adopted by the Union Army, the Henry Rifle became the weapon of choice for many soldiers. For this reason, during the Civil War, owning a Henry rifle was a source of pride. So much so that many soldiers bought Henry rifles with their own money, since firing 28 rounds per minute made them believe that it would help them survive.
Replica in DENIX
DENIX Beautiful Henry Rifle story by Sándor Senkó
Country of origin: USA
Designer: Christian Sharps
Manufacturer: Sharps Rifle Manufacturing Company
In service: 1850-1881
Use in Wars:
Weight: 4,3 kg.
Ammunition: 13.2mm bullet and paper cartridge with 50 g. of gunpowder
Calibre: 13,2 mm.
Rate of fire: 8-10 shots/minute
Effective range: 460 m.
Curiosities:Without a doubt, the most popular rifle in the Western. In the western 'Quigley Down Under' the protagonist uses a Sharps rifle. Due to the popularity of this weapon, it was considered a co-star in the film. In addition, annually in Montana, a target shooting competition called the "Matthew Quigley Buffalo Rifle Match" is held in honor of the well-known film and its emblematic 'co-star'.
Replica in DENIX
DENIX Sharp Rifle by Sándor Sénko
Country of origin: USA
Designer: Henry Deringer
Manufacturer: 1852 - 1868
In service: 1852 - 1868
Use in Wars:
Weight:400 gr.
Ammunition: Cartridge .41 Short
Calibre: 10,3 mm
Effective range: Short
Charger: 1 cartridge drum
Curiosities:The Derringer pistol is the most "copied" weapon in history. In fact, many manufacturers from different countries imitated the small gun designed by Henry Deringer. These new imitations were called 'Derringer', mistakenly imitating the last name of the original designer. When he complained, the competition used the term "palm gun" as a publicity claim, thus getting both 'Deringer' pistols and imitation 'Derringer' pistols equally seen by the public.
Replica in DENIX
DENIX DERRINGER USA 1866 - The Gambler by Sándor Sénko
Country of origin: USA
Designer: Oliver Winchester
Manufacturer: Winchester Repeating Arms Company
In service: 1873 - 1932
Use in Wars:
Weight: 4,3 kg.
Ammunition: 44-40 Winchester
Calibre: 10,8 mm.
Effective range:200 m.
Charger:Tubular magazine with a capacity of 15 bullets
Curiosities:The Winchester rifle is considered the quintessential identifying element of any cowboy or cowboy. This identification has been reinforced mainly by the who from Hollywood, which even produced a movie called 'Winchester '73', starring James Stewart, or by the Spaghetti Western in the movie'Winchester, one in a thousand'.
Replica in DENIX
DENIX Model 73 USA 1873 Carabine by Sandor Denko
The weapons of the Wild West are considered true historical jewels. Many of them disappeared or were buried along with their gunmen after their deaths. Thanks to the big screen, we can see them in the hands of outlaws and gunmen played by many of the most emblematic actors of the "spaghetti western".
Fortunately, in DENIX We have a wide variety of replicas of these weapons. Visit our CATALOG and feel like a true villain (or hero) of the Wild West.